Here it is, Halloween and this once-in-a-lifetime (hopefully) year of 2020 is scarier than this special once-in-a-year day of "ghoulies and ghosties and three-legged beasties and things that go boomp in the night." Who knew what this devilish year would bring to us, but I do believe that we will survive.
So, trick or treat in the safest way possible, enjoy the kids in their costumes at a social distance and realize that—devil may care attitudes aside—everyone will be wearing a mask.
To reminisce about Halloweens past, . . . When I was growing up in our small town, we always knew which households would hand out homemade candy apples or popcorn balls. Or which houses gave out bags of homegrown and roasted peanuts or home baked cookies. We frowned a bit but still went to those neighbors that gave us only fresh apples (alas, sugar or salt free) off their backyard tree.
Ah, the sweet old unsealed goodie days and the warnings about tipped over outhouses! Didn't kids (not me, of course!) in those days have fun?
Now, here in Northampton at the "Inn at Ice Pond," Alison and I have a tradition for those Halloweens that fall on election years. We carve politically correct (incorrect?) pumpkins such as . . .
. . . Mitt vs. Barack a few years Back . . .
. . . and in 2016 it was the Don vs. the Hill. Still working on this year's! Stay Tuned.
Plus, every Halloween I offer a special treat for the neighborhood kids! Here's my lawn sign poster.
I have been observing, however, that each year the number of kids waiting in the yard dwindles as they scarily scurry back to their candies and screens–and other neighbors' houses. I must be getting old. Or grumpy. Go figure.
Moving on, gentle readers. When it comes to songs of goblins, ghosts, witches, black cats, devils, and Jack O'Lanterns, the proverbial old piano bench is chock full of demonic sheet music of the past eras, many with ukulele chords printed right in the score.
To me, however, the graphics of most sheet music covers are almost more intriguing than the tunes. Yet, every once in a while, a song catches my ear. So, let's take a look and see what we can (ahem) SCARE UP! Mwaa haa ha hah!
There are so many good songs out there, however, so for this year's Halloween musical musing I thought I would focus just on tunes about Devils and Deviltry, Hobgoblins and Boogiemen. We'll save witches, black cats, skeletons, and Jack O'Lanterns for Halloweens to come. OK? Now, push up those horns, grab those pitchforks, and DOWN WE GO! Repeat: Mwaa haa ha hah!
And let's join the . . .
Click or tap on the next image or link for a ukulele version of this 1913 devilish tune by Irving Berlin.
Tap or click on the next image or link to play and dance along with this piano rag.
There are even a few songs that are more romantic than scary–in a devilish sense, so to speak!
Here's an early recording of this 1918 Music Hall tune. Click or tap on the next image or link for a transitional listen.
Here's a quite danceable version of this Roaring Twenties number. Click or tap on the next image or link and put on your dancing shoes!
Cliff "Ukulele Ike" Edwards put the horns into a recording of this number back in 1928. Click or tap on the next image or link to hear him play and sing.
Moving on to those devilish cohorts–hobgoblins and boogiemen. Mwaa ha ha ha!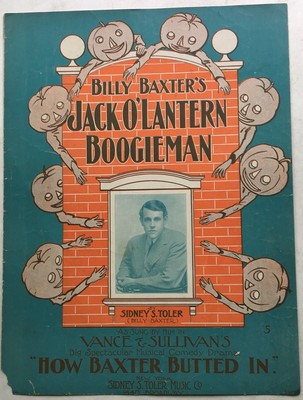 Well, it's not a ukulele version of this tune but it is a good introduction to a rare instrument called an "American Fotoplayer." This is a mechanical player-piano with built in sound effects and organlike tones that made this a favorite of silent movie pianists for those monster films of the past. You don't hear one of these that often! Click or tap on the next image or link to watch it at work. Don't be scared! Mwaa haa haa hah!
Tap or click on the next image or link for an early take on this ghostly bit of syncopation!
Click or tap on the next image or link to listen to an early recording of this Halloween chestnut republished with different covers and attributions over time.
And, of course, some appropriately themed ukuleles. Alas, a bit more Halloween " ghostish and pumpkinish" than devilish. SAD.
Oh no! Oh no! Not our favorite banjo ukes! Heeeeeeeelp!
After all that devilishness, here's a way for we strummers to fight back! Who knew?
Tap or click on the next image or link to fight back by listening to this one and looking at a few devilish pics!
Whew! Now I'm sufficiently motivated to go off to polish my powerpoint lecture on the history of Halloween for all the lovely, tasty children out there waiting patiently in the yard! Mwa haa haa hah ha ha ha ha!
So, on this scariest of evenings—in this scariest of years—stay safe, stay socially distanced, stay masked,
Or, be as good or as bad as you wish,
and STAY TUNED!
At last. The real answer based, I'm told, on science!
Oh. And, play a ukulele amid the safety of a number of fellow strummers! Masked, of course!