This is the time of the year here in the Connecticut River Valley of western Massachusetts, when home and farm gardens–as well as farm stands and markets–are filled with the bountiful produce of the year. Spring planting, summer tilling, and fall harvesting make the cycle from garden to table that we all look forward to.
As an example, here's the haul from one of Alison's and my Sunday "farm market" drives here in our "Happy Valley."
Garden produce has been a common theme for writers of both prose and poetry and, not to be left out, for musicians as well. Needless to say, there are many examples of so-called "fruit and vegetable" songs out there from the early days and also quite a few about the folks who plant, harvest, and sell these. So, gentle readers, let's take a look out there to see what we can gather and, of course, take a musical taste.
But first, it should be noted that many of the early tunes that fit within this "fruit and vegetable" musing were written as "rags," that is to say in "ragtime."
As a too brief intro to this historical musical form, ragtime originated in African-American music in the late 19th century and descended from the lively dance and march music played by Black piano players and bands.
By the start of the 20th century, ragtime music became widely popular throughout North America and was listened and danced to, performed, and written by people of many different subcultures, particularly those Tin Pan Alley sheet music publishers.
A distinctly American musical style, ragtime is considered a synthesis of African syncopation and European classical form. Just for fun, as a real "crossover style," consider the marches made popular by John Philip Sousa . . .
. . . who would often rearrange and perform his more formal compositions in ragtime, particularly as audience-pleasing encore pieces. Tap or click on the triangle in the next image to hear "Stars and Stripes Forever" played in ragtime, Sousa style!
Ragtime is usually written in 4/4 or 2/4 time and sometimes in 3/4 time as a "waltz rag." If you listen carefully to the piano part of a ragtime song, you'll hear a left-hand pattern of strong bass notes on beats 1 and 3, with chords on 2 and 4. Meanwhile the right hand plays a syncopated, often called "ragged" melody. Hence the name.
Ragtime music had a resurgence in the 1970s when the movie "The Sting" won seven Oscars including "Best Picture." Because of this, many performers and listeners rediscovered the music of composer and pianist Scott Joplin–considered the "King of Ragtime Composers."
Many of the earliest ragtime tunes–such as Joplin's–were written for solo piano or as instrumental dance band music without lyrics. Composers gave them fanciful "rag" titles more to differentiate between tunes in their portfolios rather than to provide some sort of musical description of their subject matter. Here's a good example of a lyric-less, musically generic "vegetable rag" from 1910. It could just as easily have been called "The Happy Valley Rag" or "The Ukulele Rag" or whatever. It would still sound the same!
Here's a simple version of this tune with an adjacent piano score that you can follow and see just how the basic ragtime style is played. Tap or click on the triangle in the next image for a look and listen.
A lot of our "fruit and vegetable" tunes fit into that ragtime, no-lyrics category. To me, the sheet music cover graphics are often as much fun as the music! See what I mean?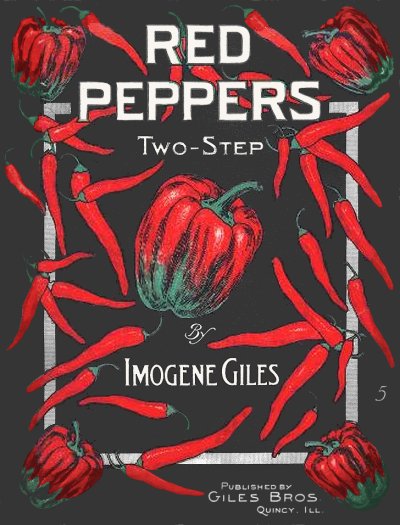 Later, more "fruit and vegetable" songs were published with lyrics and most were quite danceable one- and two-steps as well as rags. Needless to say, novelty songs both in ragtime and other forms were the rage.
Here's a delightful, albeit contemporary, take on this Irving Berlin "fruit" song. Tap or click on the triangle in the next image for some fun!
Now let's take a look at a few more of these tunes starting with gardens themselves. Not only did these fill the family larders but they often seemed like favorite trysting spots too. Ah youth!
Tap or click on the triangle in the next image for a whistling and singing rendition of this oldie along with some nice ukulele strumming. The YouTube is a bit long as it moves along into a tutorial which you can strum along with or not. Your choice at the garden gate!
And there are a few vegetables that we left out but must not be forgotten!
And, here's one of the best of the old vegetable tunes.
The phrase "she knows her onions" is a down home term for "one smart cookie" who "knows her stuff." So much for roaring twenties slang! Tap or click on the next image for a "vegetable" singing and dancing treat.
And, let's not forget all of those "spuds" or "taters" songs out there.
Here's a version of one of these with some nice strumming on a six-string ukulele–a variation on that little musical instrument not seen that often! Click or tap on the triangle in the next image for a down home treat!
Now I searched high and low (quite low may be a tad obvious . . .) to find a performer with a "vegetable name." Needless to say, a rare breed! But, never fear, I remembered that late, well-dressed (well?) Grand Ole Opry clown and great old-time clawhammer banjo picker–"Stringbean!" Tap or click on the triangle in the next image for something a bit different. Not a "fruit and vegetable song" but his name is right!
Moving on, we can't leave fruit out of our musical mix, now can we?
And, there are a few rather suggestive, if not quite X-rated, songs out there!
And, one of the great fruit songs of the 1920s.
Tap or click on the triangle in the next image to listen in on this overly popular ( to some) oldie. There's a rather long instrumental introduction to this but the lyrics show up sooner or later!
The over-popularity of that song led to the writing of this one!
Here's a ukulele version (I found one, believe it or not!) of this tune. It starts slowly then slips (ahem) into high gear! Click or tap on the triangle in the next image for this one.
And, of course, many others. Some sweet, some sour!
This one is not about a specific fruit. Rather, it's about a fruit "product." Worthy of inclusion as far as I'm concerned.
So, gentle readers, as we sit down to the table for homemade pie, fruit salad, or vegetable soup, stay as safe, sequestered, and masked as we feel the need to be these days . . .
And remember to laugh in our gardens as well as enjoy the harvest . . .
. . . and STAY TUNED!